Catalant provides centralized written and video communications for Experts and Clients.
Scheduling Interview Calls
Clients schedule interviews through Catalant's Zoom integration after reviewing pitches. Scheduling interview calls has never been easier as calendar invites sync with your host's calendar. Zoom meeting dial-in can be shared with others who need to join the conversation.
Clients and Experts are also encouraged to use Zoom conferencing after the project launches.
Download the Zoom App
Download the Zoom app on your desktop or mobile device for the best call experience (to enable audio and/or video conferencing and screen sharing).
Download for PC
Download for Mac
Download for Linux
Download for iOS
Download for Android

Zoom call features include:
Audio and Video Conferencing

Screen Sharing

International Dial-ins
Joining a Zoom Call
Once a time to speak has been confirmed by both parties on the platform, Catalant will generate a calendar invite with details on how to join the Zoom call in the workspace messaging pane and in email notifications.
Messaging Pane
The platform will generate a notification in your messaging pane, as pictured below.
Email Notification
You will also receive an email notification with details about the call, as shown below.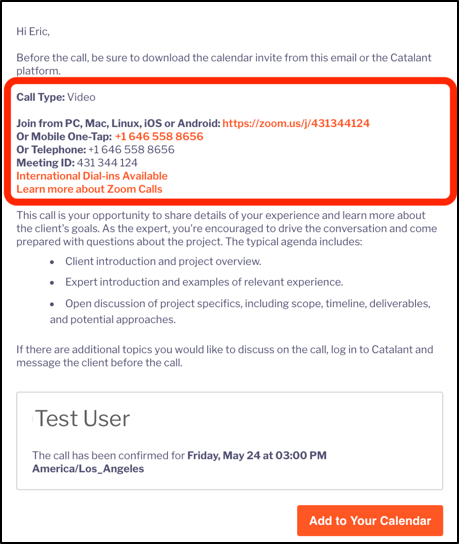 Audio Conference Only
We recommend that you download the Zoom app to ensure the best call experience and to take advantage of video calls. Clients and Experts can also join any Zoom call by clicking the Mobile One-Tap option. This option automatically inputs the meeting ID # after connecting the user to the conference number. You can also manually dial the conference number and then enter the meeting ID # to join the call.
International Dial-ins
Every meeting invite also has an "International numbers available" URL that redirects Clients and Experts to a list of supported international numbers. International users are encouraged to try the International Number first before the toll-free number.
If Zoom doesn't support your country (e.g. Antigua and Barbuda), please use the Zoom app for the call.